Room: HS 017, Tel: 0221-470-7742
Contact Person: Selina Olthof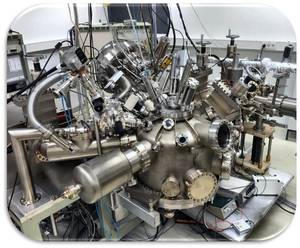 In the recently established Surface Science Laboratory we focus in the investigation of organic semiconductors regarding their energy levels, the alignment at interfaces to other device relevant materials and their transport properties. In the UHV cluster tool, layers can be prepared in situ using vapor phase deposition. For the energetic characterization we have the methods of UV photoelectron spectroscopy (USP), inverse photoelectron spectroscopy (IPES) and X-ray photoelectron spectroscopy (XPS) available. Further characterization techniques include Kelvin probe measurements and electrical characterization via IV-measurements.
Measurement tools: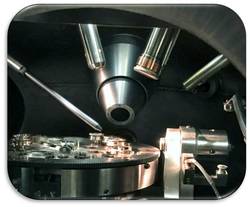 Photoelectron Spectroscopy
UPS / IPES / XPS
SPECS, Phoibos 100 hemispherical analyzer with 2D-CCD detector
Dual X-ray source (Mg Kα and Al Kα)
Monochromatic UV source (HeI and HeII)
Kimball electron gun
Bandpass photon detector (NaCl / SrF2)
Evaporation chamber center>

UHV oven center>

Electrical characterization center>

Kelvin probe center>

2 e-beam evaporators for metals
4 thermal sources for organic materials

in situ heating up to 400°C

Current voltage measurements